Miss South Africa 2020 queens speak on sisterhood and representing South Africa on a global stage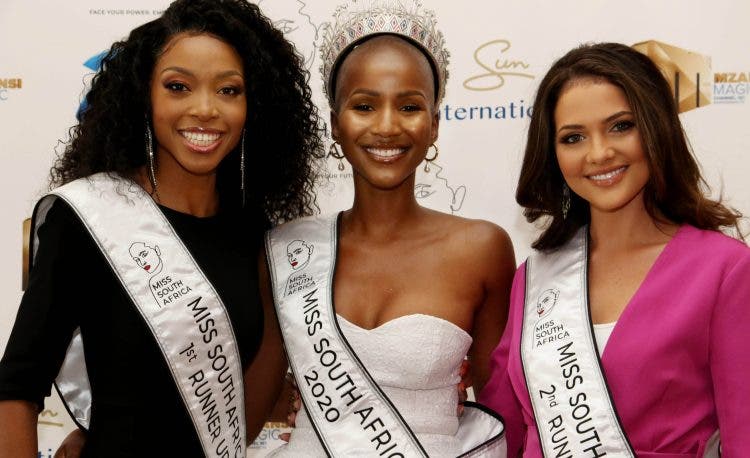 Miss World South Africa 2020 Shudufhadzo Musida along with her court including Miss Universe South Africa 2020 Natasha Joubert and Miss Supranational South Africa 2020 Thato Mosehle opened about representing the home country at international beauty competitions. The three conducted a live on Miss South Africa's social media page where the three spoke about their journey so far and how are they preparing individually to make the people of South Africa proud.
Natasha Joubert will be the first one to represent the country in 2021 a Miss Universe 2020 is set to take place on 16th May 2021, in Hollywood, United States. She has been preparing herself for the finale night and she mentioned that even though she has big shoes of Miss Universe 2019 Zozibini Tunzi's to fill in, she is assured that she will perform her best and make the country proud. She is one of the front runners for the title as she has showcased immense dedication and determination towards winning the title.
The diva further mentioned, "It's really walking away knowing that I did my best. I want to walk away saying 'this is everything I could do'. I want to be proud of myself first. Obviously, I want to make SA proud but I need to be content with everything I do there."
One of the users asked the Miss South Africa Triplets about how do they deal with the negativity and Shudufhadzo mentioned that she deals with it by completely ignoring it and focusing on what is important rather than what is not. They were then asked about how can one be fully present in a journey rather than focusing on the result to which Thato stated that their life coach has mentioned that the must stay present throughout the journey to live through it, because all the guilt and worry is in the past and all the anxiety is in the future. Thato further mentioned that she is having the best time of her life and she is not worried about the result because she knows that she is doing her best. "This is a journey to grow, meet new women, learn, and meet some of the most influential people who have changed our lives. I think we have done that so now going on an international platform would need us to be present more than ever," she concluded.
One of the users asked the divas about any pressure they have felt after being referred as "Miss South Africa Triplets", to which Thato stated that the being referred as the Triplets has increased the support rather than being a pressure because you know that there are two other sisters who are going through the same exact thing and you're not alone on this journey.  Natasha mentioned, that the Triplets thing is not a pressure and shared an incident where she mentioned that she spoke to Shudufhadzo about her journey and she just advised her on something and reminded her of her capabilities and stated that she is on the right path. Shudufhadzo mentioned that she has always wanted a sister and she have one but she is 10 years younger to her so after being referred as the Triplets, she almost felt like a sister she has always wanted. She mentioned that not only the three but all the ten girls of Miss South Arica 2020 felt like a sisterhood and looking back at the national competition and now preparing for an international competition just inspires you and encourages you to be the best.
Shudufhazo said that we'll be calling Natasha a lot while she is at Miss Universe 2020 because we know the pressure and listening and talking to someone close to you takes a little stress off. She also added that we all will be supporting her throughout the competition and she praised Natasha for giving and performing her 100% for the competition. She also said to Thato that she always has a sister in all the queens and we'll support each other to the end. You can watch their heart-to-heart live session and know a little bit more about their journey from themselves.