Inside Pageant talks with Miss Wheelchair World
The second edition of Miss Wheelchair World pageant took place in October in Mexico. The Miss Wheelchair World project was created to change the image of disabled women around the world. The organisation believes that disability is not a limitation and it wants to break down these barriers. The pageant was founded by two Polish moms "who believed there should be no limits in the manner that beauty is perceived and appreciated".
The organisation states on its website: "Miss Wheelchair World is an international non-profit initiative created by the Jedyna Taka Foundation based in Ciechocinek, Poland. We are an organisation that respects ethical values ​​and respects human rights. These are international meetings of women with motor disabilities from different parts of the world, where we celebrate overcoming barriers, self-acceptance and empowerment of disabled women through a beauty contest and various recreational activities."
Inside Pageant Magazine had the chance to interview Sandy, the new Miss Wheelchair World.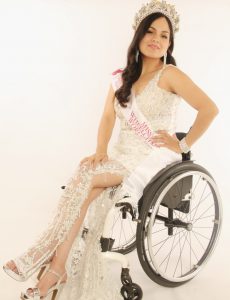 Inside Pageant – Hi Sandy, first congratulations for your title. My first question is the same for everyone. Can you introduce yourself in a few words, please?
I am Sandy Izquierdo, miss Wheelchair World 2022, wife and mother of a little girl. Bachelor of Education with experience in pedagogical accompaniment. I have physical motor disability since 2016.
Inside Pageant – What are your hobbies?
I like to go to the cinema, I enjoy movies, spending time with my family on walks and trips. Recently, he acquired a taste for the practice and vision of court tennis.
Inside Pageant – Who is your role model in life?
My parents, who have always instilled in me to be responsible and dedicated in life.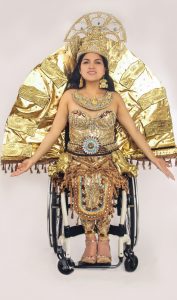 Inside Pageant – What is your life motto? Why?
Smile at life, because I believe that despite the fact that a complicated situation arises, we must look for the positive side and seek happiness.
Inside Pageant – What is your guilty pleasure?
I love going shopping and watching entire series.
Inside Pageant – Now, talk us about your pageant career. Miss Wheelchair World is it your first pageant?
This pageant (the Miss Wheelchair World) has been my second experience in this type of event, the first was the national pageant in my country. My participation happened because my interest in motivating other women wheelchair users to develop fully.
Find the full interview in the next issue of Inside Pageant magazine available soon.