Miss Universe 2021 Harnaaz Sandhu and her "sister" Miss Universe Philippines 2021 Beatrice Luigi Gomez reunited during an event called "Be Next Period Ready" at the Hilton Grand Ballroom in Pasay City last Tuesday, April 26. Miss Universe 2021 joined a youth-led "Period Pains" workshop on tackling the challenges of menstrual equity with young people, held at Citadines Bay City, Pasay on Monday. Sandhu, who is one of the guests at the coronation of the Miss Universe Philippines 2022 which is will take place at the Mall of Asia Arena in Pasay City on April 30, has launched a global coalition to achieve menstrual equity in her home country India, in partnership with the Miss Universe Organization, and as ambassador of Plan International, a humanitarian organization that advances children's rights and equality for girls and young women.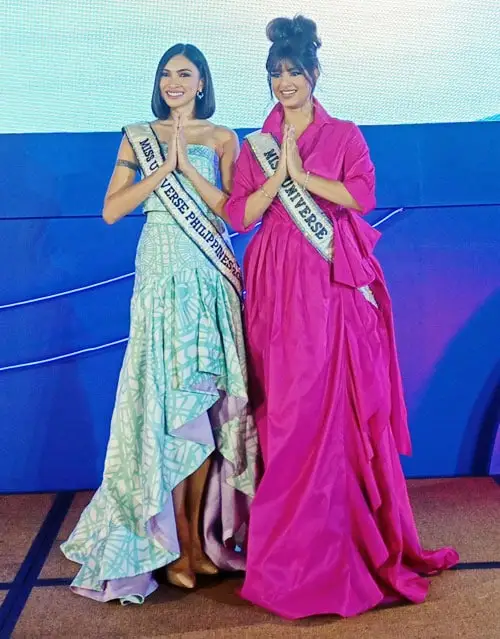 "I'm so honored to participate in this initiative while in the beautiful country of the Philippines. As fans know, my platform has consistently been menstrual equity, which is a passion of mine, cultivated at an early age by my mother. It's a dream come true to be able to make a difference across numerous countries, to educate and empower those who menstruate to feel safe and secure, and erase the stigma across the globe around menstruation," said the 22-year-old, Sandhu.
"Don't cry, you're not going to die. That was the first thing she told me," Sandu said when asked what advice she got from her gynecologist mother the first time she experienced menstruation.
"She taught me how to use pads and medication and most importantly, she advised me emotionally. She told me to pass the message to young women in my community when I grew up," Sandhu added.
Sandhu, who said she is excited to meet all the candidates of the Miss Universe Philippines 2022, had an emotional reunion with Miss Universe Philippines 2021 Beatrice Luigi Gomez upon her arrival in the country.