Miss Nepal 2022 – Results
The 25th edition of the Hidden Treasure Miss Nepal saw the crowning of three Nepalese queens who will soon compete in several international pageants. Priyanka Rani Joshi from Kathmandu has been crowned Miss Nepal World 2022. The 24-year-old defeated 23 other contestants to win the coveted title in the beauty pageant and to succeed Miss Nepal 2020 Namrata Shrestha. Likewise, in the grand finale, Nancy Khadka bagged the title of Miss Nepal International while Sareesha Shrestha won the title of Miss Nepal Earth.  The pageant was held in the town of Godawari in Bagmati Province Saturday night (June 18).
The organiser had changed some criteria for Miss Nepal 2022 this year. From this year, the minimum height of the contestants was reduced to 5' 3" from 5'4" while age limit was increased from 26 to 27 years. The Hidden Treasure had conducted the audition for Miss Nepal in all the seven provinces of the country. Auditions were held in Birgunj, Dharan, Dhangadhi, Kathmandu, Nepalgunj, Pokhara and Surkhet.  Miss Nepal had not been organised last year because of COVID-19 pandemic.
This year, Hidden Treasure had provided nine subtitle awards to the contestants.
Rose Kandel received the Miss Beautiful Hair, Mamata Dhakal was awarded with Miss Photogenic, Nancy Khadka received Miss Popular Choice, Sophia Shrestha received Miss Glamour, Rose Kandel received Miss  Intellectual, Priyanka Rani Joshi received Miss Delight, Sareesha Shrestha won Miss Confident and Ganga Gurnung won the Face of 2022.  Likewise, Smarika Sharma won the title of Beauty with the Purpose.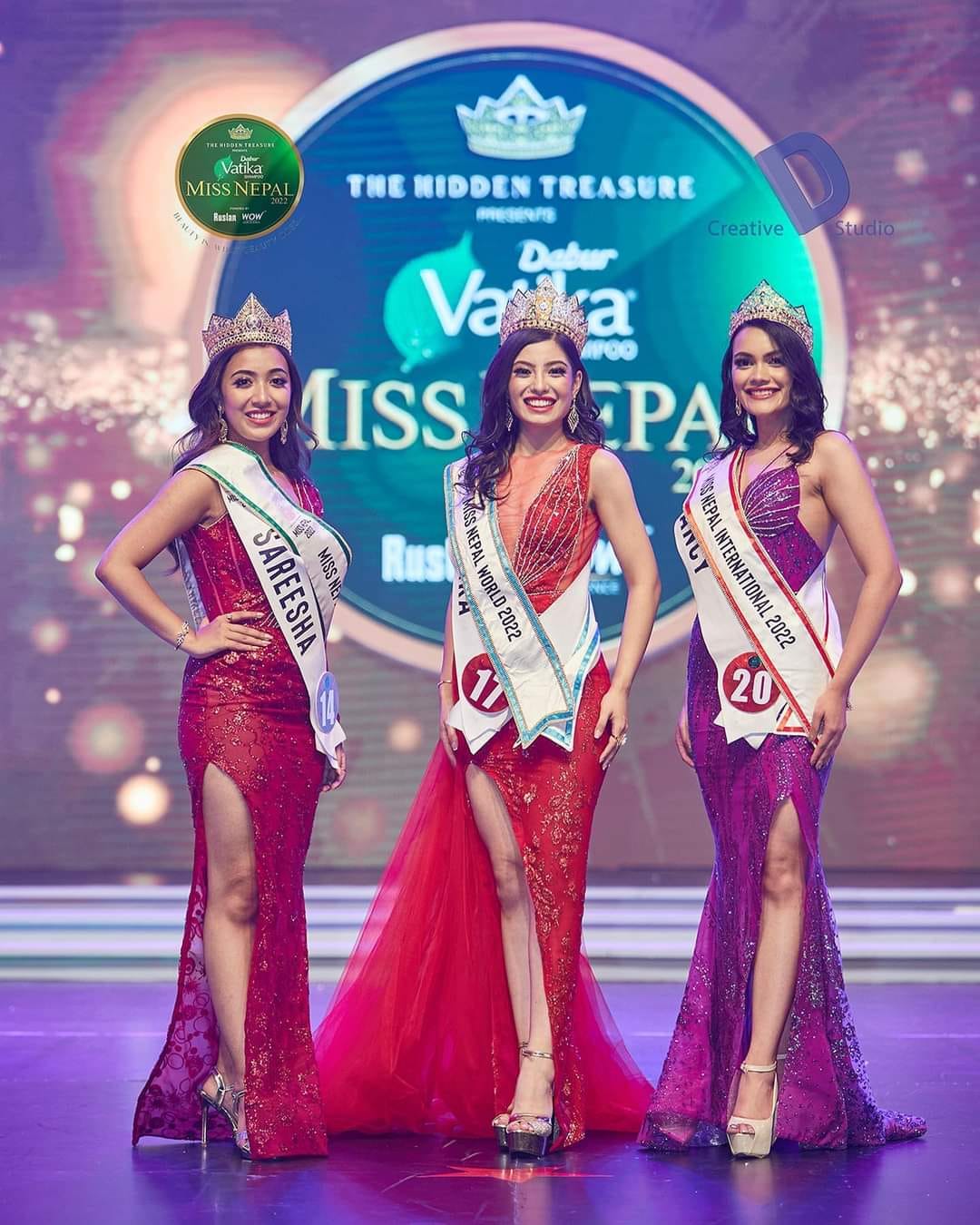 Miss Nepal World 2022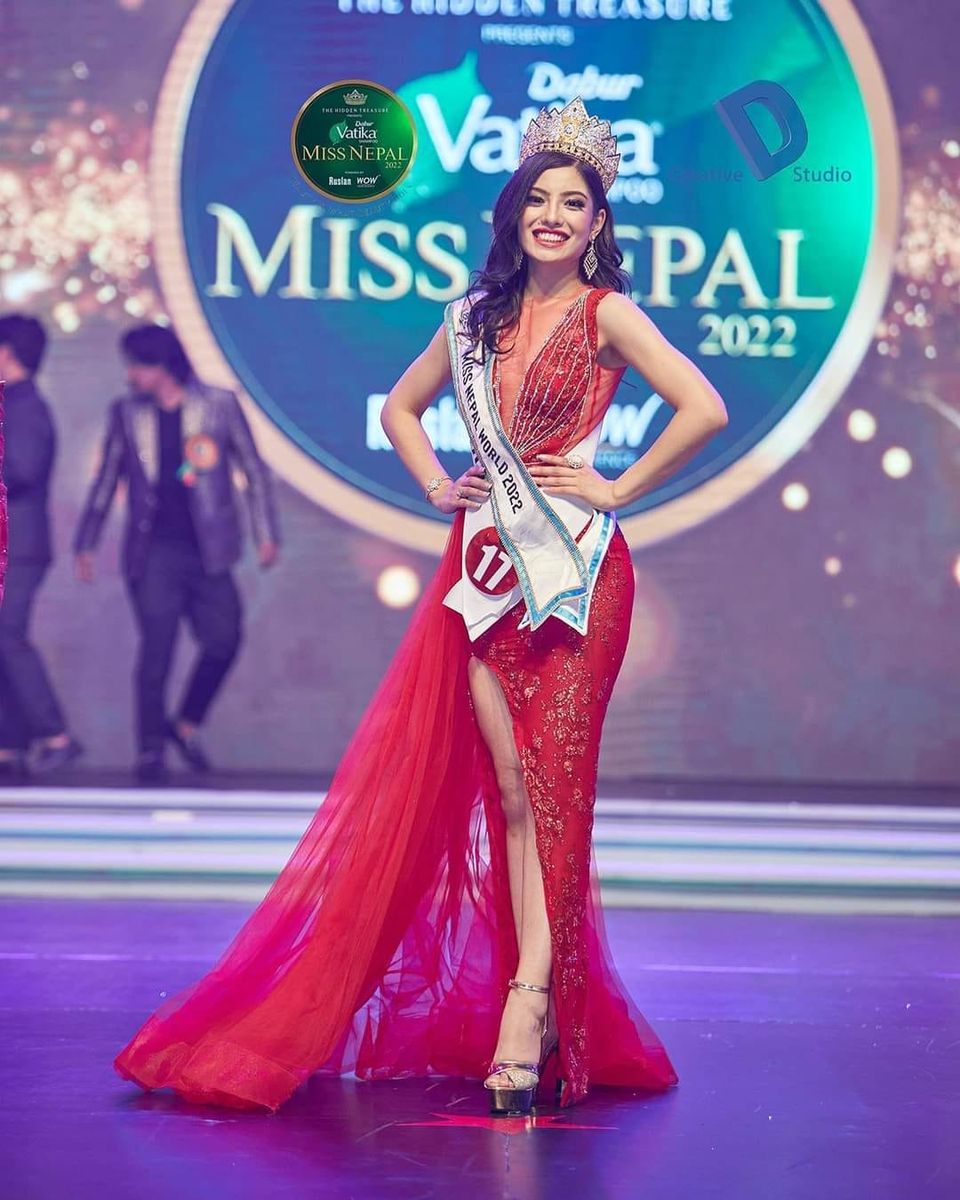 Priyanka Rani Joshi is an entrepreneur by profession. She holds a Bachelor's degree in Journalism and English from the St. Xavier's College, Maitighar. Joshi also worked at House of Fashion, Nepal and later did an internship at M&S VMAG. Since then, she has worked as the Marketing Officer at Anita Jewels. She will represent Nepal in the upcoming edition of Miss World pageant.
She wishes to set up a residential camp to care for and rehabilitate street children. The top six contestants had been asked a question, what do you think one girl can do or be an example of a fearless woman in future?
Joshi replied, "The start of 21st century did bring about the sources of positive changes for women across the globe. This started as the fight, today we stand tall. One girl is an enough  power to search changes that disciples love that bring the entire world together because sublime beauty of womanhood is her parallel strength to hold the power of holding the world in her and I stand for uplifting and empowering that strength."
Miss Nepal Earth 2022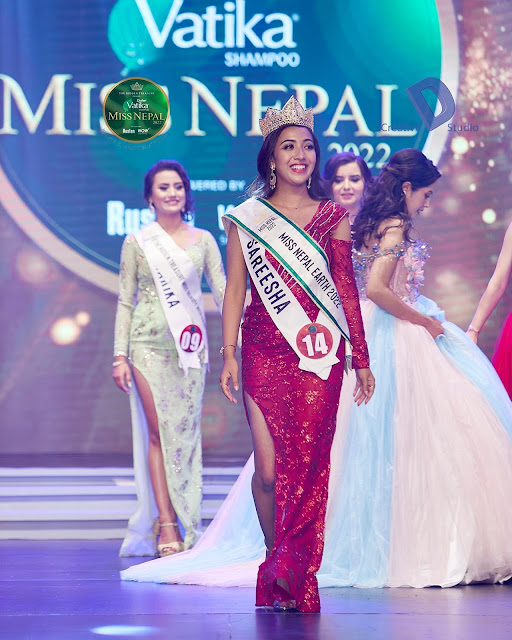 Dr. Sareesha Shrestha became the official representative of Nepal at Miss Earth 2022. She succeeds Miss Earth Nepal 2021 Supriya Shrestha.
Shrestha is a doctor, TV Presenter and also works as professional model. She is a health advocate and the founder of 'Sahayatri', an organization that works for the health empowerment of women and children as their Sahayatris/ companions.
Shrestha also works as an ambassador of Canopy Nepal, a non-profit organization that is working towards challenging traditional thoughts on education, creating accessibility of education & promoting interactive learning. With all of her accomplishments and her strong advocacy, Sareesha has already become a strong contender for the Miss World crown.
Miss Nepal International 2022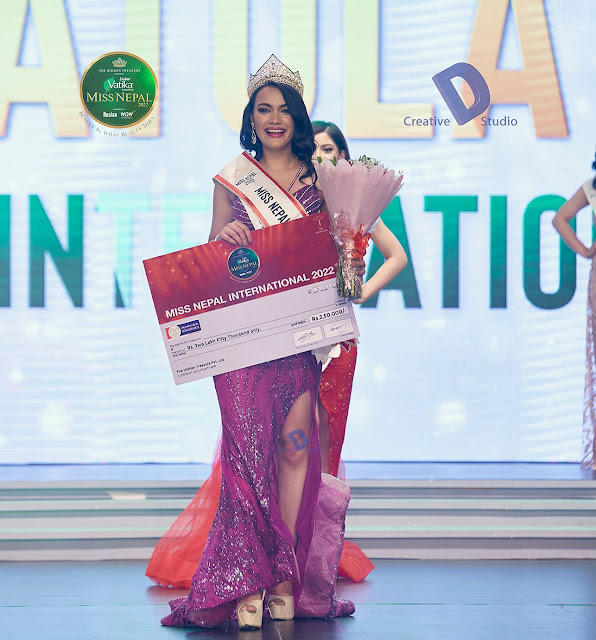 Nancy Khadka has studied in St. Joseph's Higher Secondary School and currently lives in Kathmandu. However, she is a native of Biratnagar, Nepal.