Marwa Lahlou was crowned Miss Arab USA 2022 at the end of the pageant, held on July 23, 2022 in Chandler, USA. She bested 18 other candidates to succeed Miss Arab USA 2019, Iya Agha. Miss Arab USA was her first pageant and she was drawn to the event because she wanted to be a part of something that would support her passions for helping others as well as her commitment to community outreach and engagement.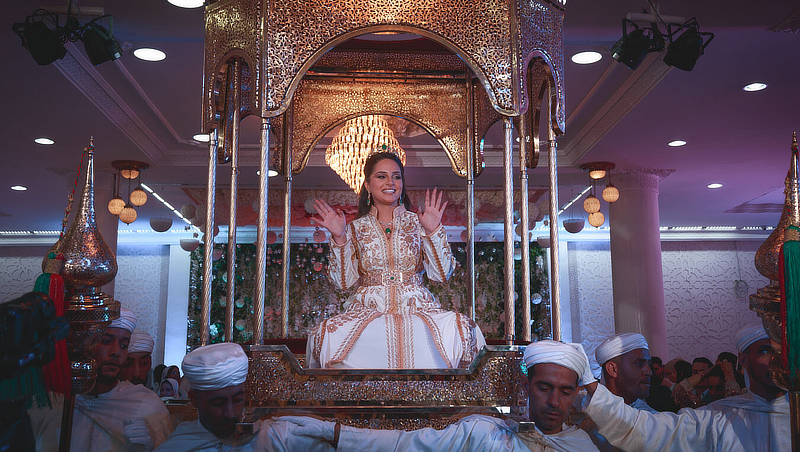 Born in Oujda, Morocco, a city near Algeria, Lahlou moved to the United States when she was 12 years old. She and her family also lived in Alabama and Virginia before moving to Connecticut. Lahlou earned a bachelor's degree in political science and her Master of Business Administration at the University of New Haven. She actually purses MBA. She now splits her time between Connecticut and Rabat, the capital of Morocco.
For her, representing her Arab culture and helping those in need are more than just goals – they have become a personal mission, of sorts. Lahlou has been dedicated to serving those in need – specifically, refugees, young women, children, and those facing homelessness – for many years. Whether she is focused on advocacy, campaigns, or fundraising, she is passionate about making an impact in her community. She is also excited to have the opportunity to share her heritage and promote the impact of education.
Since moving to Connecticut, Lahlou has been committed to a variety of fundraisers and campaigns. An instructor at the Middle Eastern Dance Academy of CT in West Haven, Conn., she and the dance school raised money and collected donations for the people of Puerto Rico after Hurricane Maria devastated the island in 2017. She has also raised money for those facing homelessness and helped run local clothing donation campaigns.
"My goal is to represent and show that Arab women over decades have made amazing accomplishments," she said. "To cite just one – The University of al-Qarawiyyin, which is the oldest continually operating university in the world was founded by an Arab woman in Fez, Morocco. I can cite several similar examples, and I am working very hard to make it on this list someday."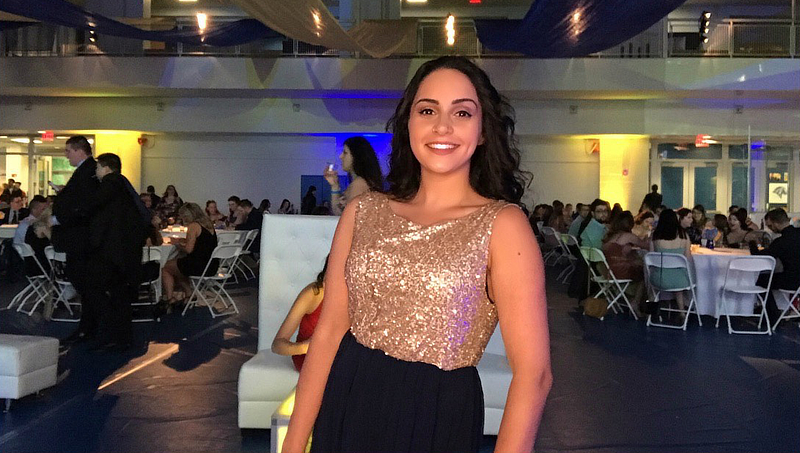 Lahlou made quite an impact during her time as a Charger. She was a member of several clubs, including the Toastmasters and Arabic Clubs. She also shared her culture with the University community at events such as the International Festival, introducing her fellow Chargers to such diverse topics as Ramadan, henna, and belly dancing.
Her time as a Charger also enabled Lahlou to build her leadership skills. After beginning a position as a translator for the University's Center for Analytics, she worked her way up to a full-time project coordinator during her four years at the Center. She also translated for world-renowned forensic scientist Henry C. Lee, Ph.D., during seminars for cohorts from Gulf countries.
"I learned all the skills that made me successful from my years at the University and from my amazing professors, both as an undergrad and a grad student," said Lahlou, who also served as an internship supervisor for Chargers interning for United Airlines. "With these skills, I was able to land dream opportunities at the United Nations and ViacomCBS. Also, having my mother Halima Belemlih, Ph.D., an Arabic language lecturer, at the University made my years even more special. The University truly is a home for me and my family."
Now a marketing project manager for NFP, an insurance broker in Shelton, Conn., Lahlou also looks forward to continuing to make an important impact in her community.
"I love my new role at NFP," she said. "It is amazing because I get a chance to put everything I learned from the MBA program at the University in full practice. At the same time, I get to use all the skills I learned as a project coordinator at the Center for Analytics. Working in my field of study feels like a true blessing."
Source – University of New Haven