Melody Pierce crowned Miss Arizona 2022
Melody Pierce of Phoenix was crowned Miss Arizona 2022 on June 25, 2022 at the Madison Center of the Arts in Phoenix, Arizona. She succeeds Miss Arizona 2021, Amber Barto, and will compete for the title of Miss America 2023 at the Mohegan Sun in Uncasville, Connecticut.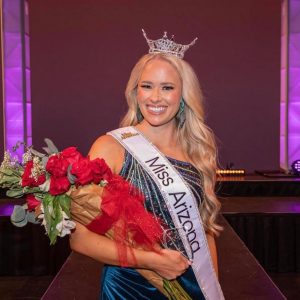 The 26-year-old is a graduate of Arizona State University with a bachelor's degree in Journalism and Mass Communications. She currently works as an eating disorder recovery and body acceptance coach through her program, S.T.E.P.S. Recovery. Recipient of the Miss Arizona Quality of Life Award for her service work, Melody is dedicated to aiding her community in the recovery of eating disorders and directs Arizona's chapter of the National Eating Disorder Awareness Walk. With her six years of experience in public relations, she is excited to connect with partners across Arizona throughout her year.
Miss North Phoenix 2022 is a veteran at Miss Arizona pageant. She was Miss Scottsdale, Miss Tucson Desert Rose 2017 at Miss Tucson Scholarship Program, Miss Phoenix 2020 and Miss Arcadia 2018 at Miss Paradise Valley/ Arcadia/ Cactus Blossom. She said before the last pageant on her social media "Dream your wildest dreams, never stop. I'm truly emotional typing this and sharing with you my final headshot for the Miss Arizona competition. Six years of my life have been dedicated to chasing this dream."