Déja Fitzwater crowned Miss Oregon's Outstanding Teen 2022 at the end of the 75th anniversary of the Miss Oregon Scholarship Program, held on June 18, 2022, at the Seaside Convention Center  in Seaside. Miss Evergreen's Outstanding Teen succeeds Moira O'Bryan, Miss Oregon's Outstanding Teen 2021 and become the official representative of the Beaver State for Miss America's Outstanding Teen pageant, which will take place in August 2022 in Dallas, Texas.
When she was announced as the winner, she described her first reaction as absolute shock and elation. "There are no other words to describe my feelings in the moment, with many months of hard work finally having a result," she said. During her year of service, she said she wants "to branch out into communities across the state and get people excited about the next generation" of titleholders.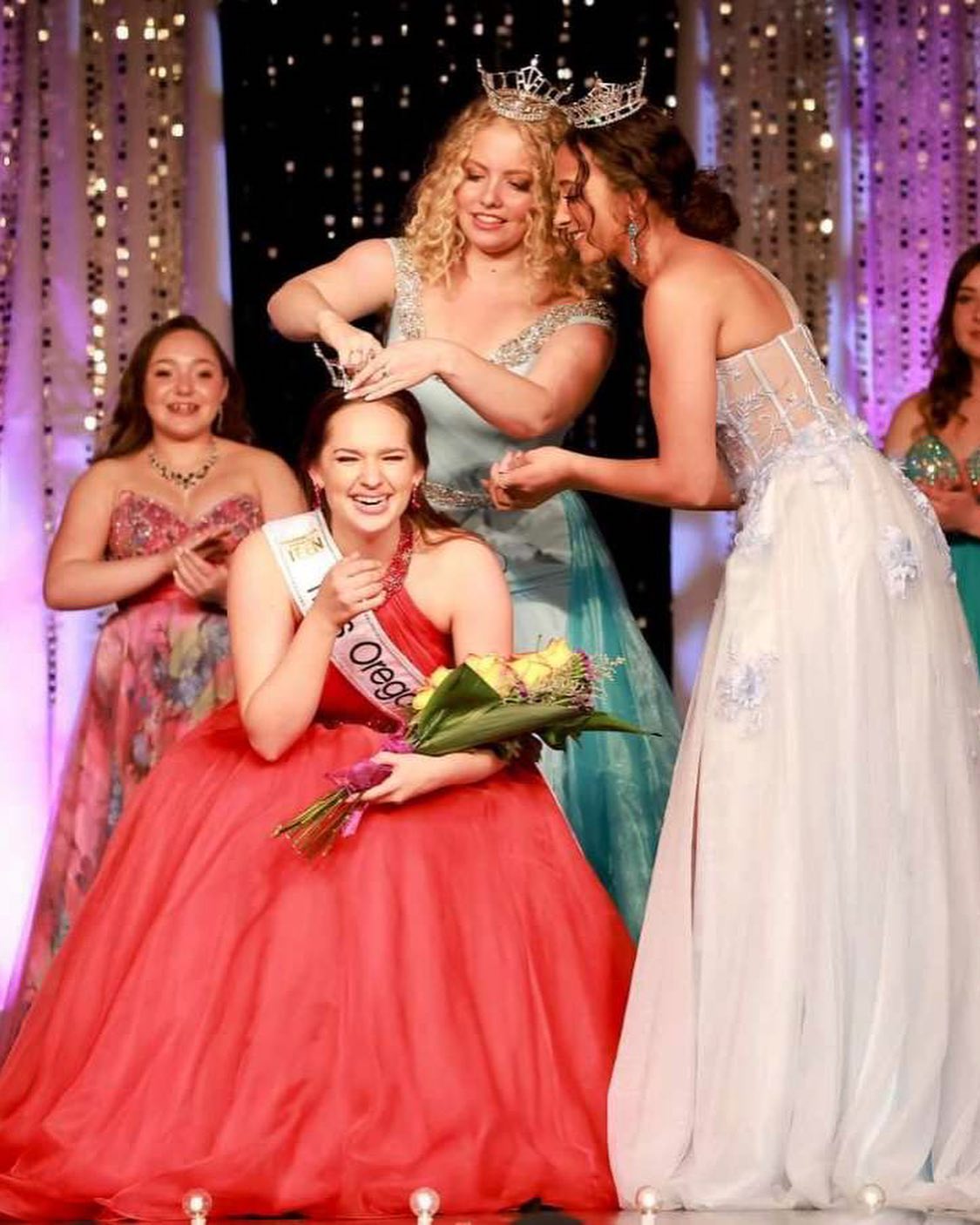 Fitzwater is a Clackamas County resident who will be senior at Tigard High School in the fall.
The 17-year-old Clackamas County resident is no stranger to the event held annually at the Seaside Convention Center. She was a princess in the Outstanding Kids program in 2011. In 2014, she went to the Miss Oregon Princess Camp at Seaside, where her name was drawn from the bowl and she became the 2014 Miss Oregon Princess, resulting in a year of service and appearances. "I began my Outstanding Teen journey in 2019 as Miss Meadowlark's Outstanding Teen. In 2020, there was not a competition, and then in 2021, I was the Miss Portland-Metro Outstanding Teen," Fitzwater said.
Fitzwater said she loves the sisterhood and positive community that the competition provides, and "the scholarships are just a fantastic bonus to the experience."
Fitzwater will also receive advice about making her Social Impact Initiative pitch to judges at the national pageant. She said her area of interest is "Watch. Speak. Listen. Encouraging healthy communication between teens." Fitzwater said she created the initiative because she "did not like the disconnect that the pandemic created among my own peers, as well as teens in general." As part of this month's pageant, a special college scholarship opportunity was available to all the teen candidates, based on their social impact initiative and hours of community service.
Fitzwater said she submitted a letter of recommendation and her community service project hours; she also gave a 45-second social impact pitch and answered follow-up questions from a panel of judges.